Here is How to Fix Damaged Outlook Mailboxes
Step one: download and install Recovery Toolbox for Outlook. Step two: set the program against the damaged PST oder OST file. Step three: grab the fixed file. Easy? Sure. Recovery Toolbox for Outlook turns a potentially dangerous situation into a routine and very simple task.
With this program you can recover Outlook mail data in any version of a PST file starting from Outlook 97 and up to the latest Outlook 2016. The program successfully repairs encrypted and password-protected PST und OST files and supports extra-large mailboxes. If you faced a strangely looking error message or if Outlook cannot load your mail box for some reason, may be it is time to let Recovery Toolbox for Outlook do its job.
Here is why this program rocks.
Effortlessly repair damaged or corrupted PST/OST files
Look, when your e-mails don't open, all you can think of is recovering them, no matter how. You don't want to investigate the problem. You don't want to google for a solution for hours. You want to run a fix tool and get your mail back. Fast. This is exactly what Recovery Toolbox for Outlook delivers – fast and hassle-free restoring of a damaged or corrupted Outlook personal storage table file.
The program scans the provided PST file, automatically detects all problems with it and makes all necessary fixes to make it valid and opening again. Recovery Toolbox for Outlook allows you to recover messages (HTML, RichText or plaint text a like), Zubehör, Kontakte, appointments, tasks and embedded files. Günstig, the recovered file is saved under a different name, so you can roll back to the original if something goes wrong.
Successfully deal with many errors and problems of Outlook PST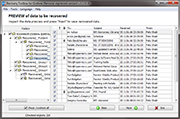 The range of potential problems you can stumble upon while opening a PST or OST file is wide. "The file is not a personal folders file". "Errors have been detected". "An unexpected error". There are dozens of them. The standard PST repair tool scanpst.exe cannot always deal with these problems correctly. And even worse – scanpst.exe's attempts to fix the issue often lead to more problems with the Outlook file. It is like as if you committed changing engine oil in your car to your 5-year old son, and he poured corn oil inside.
Glücklicherweise, Recovery Toolbox for Outlook dismisses all these problems in one go. No matter what kind of error you see, simply let the program scan the file and recover all data it can. Even if scanpst.exe has failed, and even if it made things worse, Recovery Toolbox for Outlook will save the day. Built-in format converter saves PST/OST as MSG or EML files.
In addition to extremely helpful recovery functions, the tool also offers e-mail box conversion. You select a healthy PST or OST file and switch the program to the conversion mode. Dann, you can export all data from that file to another format, namely MSG or EML. You can also export specific data from the Outlook file to another PST, EML, MSG, VCF or to a plain text file.
Plain and simple

,

easy to use

Like all other products in the Recovery Toolbox series, Recovery Toolbox for Outlook is refreshingly easy to use thanks to a non-cluttered UI and well-thought out functions. A recovery tool does not have to be complex. It must be efficient. Versatile. Reliable.
---
Download Recovery Toolbox for Outlook
And you've got it right here. Download Recovery Toolbox for Outlook and rest assured your e-mails remain with you even if Outlook says 'no'.
---
zusätzliche Information
System Anforderungen:

Windows 98/Me/2000/XP/Vista/7/8/10 or Windows Server 2003/2008/2012 and above

.

Microsoft Outlook 98 or higher must be installed on the user's computer at the time of conversion

(

excluding Outlook for Office 365

,

Outlook for iOS and Outlook for MacOS

).
Test Einschränkungen:

Trial version allows to fully preview and recover limited amount of Outlook items

.
---
Herausgeber:
---
Geben Sie Ihre Bewertung

& Nbsp;;& Nbsp;;& Nbsp;;& Nbsp;;& Nbsp;;