Ultimate Media Player You Didn't Know You Need
I remember using Zoom Player like 12 years ago and at the time it was hands down the most sophisticated video player on the market. And free, Apropos. The thing played literally everything, had a nice skinned interface, and was packed with functions to the brim including the famous zooming of any videos (that's where the name comes from) – a rare bird among video players of the era.
Gute Nachrichten. Zoom Player is still here, better than ever and free as always. aber, there is even more powerful Zoom Player Max, but we'll get to it in a moment.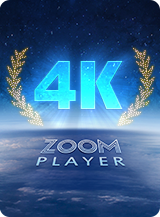 Let's deal with the basic functions first. Zoom Player is perfect for playing DVD, BluRay, Full-HD and 4K videos in hundreds of formats, as well as music, Bilder, audio books, Flash and whatnot. There is also a version of Zoom player for tablets delivering the same or nearly the same functionality. Plus, you can use your tablet or a smartphone as a remote control for your desktop Zoom Player.
The interface of Zoom Player is not revolutionary but is extremely intuitive for anyone who has ever seen a video player. Here is the main window, the playlist, the media library and the equalizer. Günstig, all these riches can be minimized to the super compact control bar or the less compact yet still small audio mode. This way you still easily control the playback but the screen space is not obscured by multiple windows you don't need right now.
Interestingly, mit Zoom Player you can turn your PC into a full-fledged Home Entertainment Center. In a few words, the whole operation is about installing Zoom Player to a spare computer you don't use, making initial configurations and setting up Media Library. Then you connect the PC to the TV set using DVI plugs and you are done. Same as a specialized home theater except that it is much, much cheaper.
Jetzt, let's talk about Zoom Player Max. It is not free, but the price is well-worth the capabilities you get in return.
There are tons of new options! Um ein paar zu nennen:
Integration with YouTube to create your own playlists of your favorite YouTube clips and channels

.

Extended support for multiple monitors

.

Support for Direct 3D shaders that can drastically enhance the video you watch

.

Support for interactive content

(

Flash or QuickTime presentations

,

HTML and so on

).

Ability to render the image to the video wall – a set of monitors each displaying a part of the bigger picture

.

You can use Xbox 360 controllers as remote controls

.

Integrated file tracker

Tons of customizations

,

options

,

adjustments and fine-tuning

.
And skins! Did I mention skins? There are literally thousands of them. Minimalistic skins and ones with lots of gimmicks. Standard layouts and fantastic ones. Themed skins and re-coloring. I guarantee – if you ever open the official skin catalog of Zoom Player, you'll end up surfing it for hours.
Zoom Player und Zoom Player Max deserve space on your computer (not that much of it, I should mention), even if you are not that into watching media. Warum? Because this kind of applications simply never expires. Like wine, it gets better every year, releasing new facets of its taste and surprising you again.
---
Get Zoom Player
Zoom Player is an ultimate media player, schnell, convenient and tremendously functional if you are one of those technical geeks who love to configure every single bit on their computers. Versuch es.
---
zusätzliche Information
System Anforderungen: Microsoft Windows
Test Einschränkungen:

30-day trial

.
Perform the following easy steps to uninstall Zoom Player
In case if you want to remove the Zoom Player automatically

:
Öffne das Schalttafel (es ist in der Regel aus dem Start verfügbar Menü)

Click &quot

;Programme

&quot

;

then &quot

;Ein Programm deinstallieren

&quot

; in dem Schalttafel Einstellungen
(

this item may have name &quot

;Programme und Eigenschaften

&quot

; abhängig von der gewählten Ansicht)

Select the Zoom Player in the appeared &quot

;Deinstallieren oder Ändern eines Programms

&quot

; Liste

Click &quot

;Deinstallieren

&quot

; (

or &quot

;Deinstallieren / ändern

&quot

;) im Menü über die Liste der installierten Programme platziert
Bestätigen Sie das Entfernen
Sie können zusätzliche Schritte ausführen müssen, um die Software zu entfernen. Das Sie werden gefragt, wenn nötig.
In case if you wish to remove the Zoom Player manually

:

Unter Umständen müssen Sie ein solches Verfahren für den Fall zu verwenden, wenn das System instabil arbeitet oder die automatische Methode wird nicht funktionieren.
Melden Sie sich auf dem Windows-System als Benutzer mit Administrator Privilegien
Führen Sie die Windows-Dateien Explorer (Sie können Win + E Tastenkombination verwenden für Dies)
Navigieren Sie zu dem obersten Verzeichnis, in dem das Hauptprogramm-Dateien-Ordner war während der Installation erstellt
(

most used is &quot

;Programmdateien

&quot

;

or &quot

;Programmdateien (x86)

&quot

;

directories so you may use&nbsp

; %PROGRAMMDATEIEN%
Umgebungsvariable navigieren in das Programmverzeichnis: einfache Art in% Programfiles%
in das Adressfeld des Files Explorer und drücken Sie Enter-Taste).

Select the&nbsp

;

the Zoom Player program directory

(klicken, um es den Namen einmal)

Delete the entire Zoom Player directory from the Program Files

Repeat the same for other files related to the Zoom Player
* - Seien Sie vorsichtig, um das System oder andere wichtige Dateien nicht löschen.
---
Herausgeber:
---
Geben Sie Ihre Bewertung

& Nbsp;;& Nbsp;;& Nbsp;;& Nbsp;;& Nbsp;;